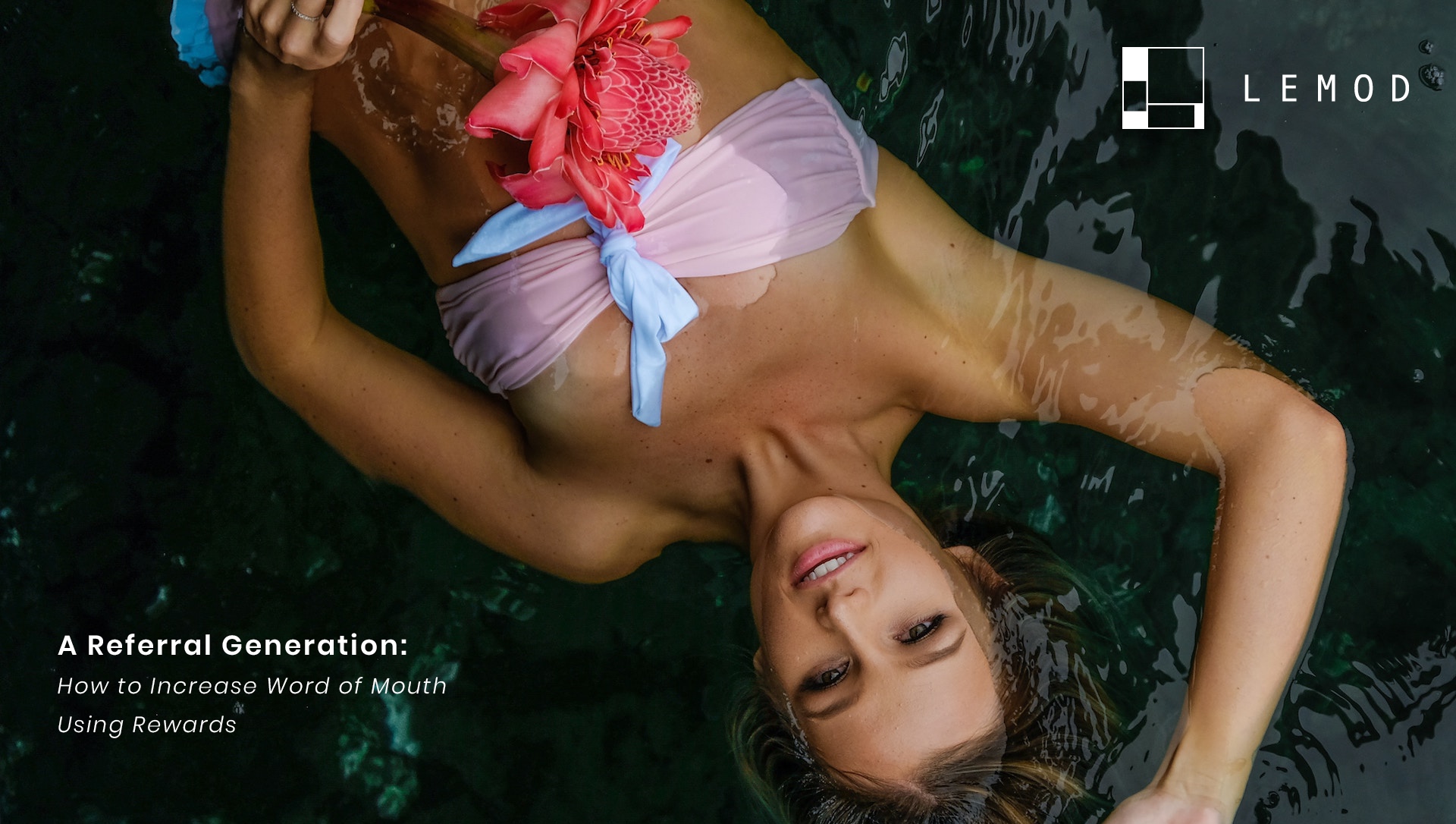 A Referral Generation: How to Increase Word of Mouth Using Rewards
Your Referral Program
One of the more accurate measures of a healthy aesthetic practice is a high referral volume. Although most aesthetic practices seem confident the majority of their business is word of mouth, understanding why this is or how to optimize it seems to be an enigma. This is because tracking, managing, and incentivizing referral behavior is difficult. That said, once you successfully launch a referral program, the benefits are well worth the effort. In this article, I am going to explain the primary components of referral marketing and how the Lemod platform makes it simple. By the end of this article, you should have a clear understanding of why referrals are so important and how to begin making them the focus of your marketing strategy.
Importance of Referrals
Word of mouth is the primary factor behind as much as 50% of purchasing decisions. Referred patients also happen to be the most valuable type of patient.  They are converted into customers for significantly less money than those acquired via direct marketing. Additionally, referred patients have a 16% greater lifetime value and a 37% higher retention rate. Beyond the quantitative, if patients are referring your practice, that means your practice is share-worthy. Referrals demonstrate that patients who have used your services were pleased enough to share their experience with a friend. That is why referral metrics should not only be tracked, they should be at the top of the priority list.
Let Your Metrics Be Your Guide
A practice that does not make data-driven decisions is like a Captain steering a ship without a compass. In order to truly understand practice trends, you must know your performance baselines- average performance on which to measure. Example baseline measures include: patient satisfaction, organic customer acquisition, and practice performance by procedure. After establishing baselines that are consistent from month to month, a practice can run tests or campaigns to improve performance. Referrals are no different. Identifying your referral baseline and running tests to positively impact performance is the most effective way to move the needle.
Moving the Needle
83% of patients who have had a positive consumer experience are willing to refer, but only 29% actually do. So how do we get patients to refer more? First and foremost, practices MUST successfully observe Rule #1 of the 3 Rules of Referring : You Must Be Referable. Next, you must apply the old adage 'keep it simple stupid' (KISS) when designing a referral program. The more difficult a referral process is, the less chance patients are to use it. In addition, you have to ASK (Rule #2). Although reminding patients to refer may seem unnatural at first, the benefits are well worth any discomfort. Reminders should be wrapped into every patient interaction like a script. Lastly, you have to incentivize (Rule #3). Giving patients an incentive to refer lets them know that you have skin in the game.  
The Art of Rewards
81% of consumers are more likely to engage with brands that have a rewards program. In the aesthetic space, this should motivate any practice without some type of loyalty program.  Notwithstanding, a common concern is giving away too much and losing money. To address those concerns, I'll cite an episode of The Office "Costume Contest" where the winner receives a coupon book containing $15k in savings. To the annoyance of Oscar, the 'know it all' accountant, this prize leads staff members to believe the coupon book is literally worth $15k. Therefore, whilst boycotting the contest, he unsuccessfully attempts to explain that the winner would have to spend exponentially more than $15k to take advantage of the coupon book.
Same rules apply with a reward program. For a patient to redeem rewards, often on services they may not have otherwise purchased, they have to spend more money. Finally, a practical rewards program is a good rewards program. I have seen practices offer a free facial after 5 referrals. Low and behold, no one has ever earned that facial. That said, the sweet spot between giving away too much or too little just requires calibration.
The Importance of Follow Through
If you start a referral rewards program and assume it is going to run itself, the odds of success are not great. Instead, the older, more refined and more promoted a program is, the more trustworthy it will become. Since the time gap between patient visits can be longer in our industry, the compounding benefits of a rewards program can take some time to manifest. Furthermore, referral programs can be a lot of work. That is why the best designed referral programs put the majority of the work on the patients. Lemod does this very successfully. 
The Lemod Solution
The Lemod Loyalty Platform was designed specifically to manage loyalty programs for aesthetic practices. With Lemod, your patients can download your HIPAA-compliant mobile app and immediately start engaging and earning rewards every time they refer and return. Furthermore, Lemod gives you the data to identify your influencers so you can begin optimization of loyalty marketing channels. Most importantly, Lemod will work with your practice to keep you up to date on industry best practices. Call 202.794.2969 or contact me to learn more.